How to Make Ladybug Cupcakes
Ladybug Toppers and Picks
Are you looking for ladybug decorations?
Take a look at some of these homemade ladybug cupcakes and get inspired to make your own.
Find out how to make your own cupcake toppers, picks and more good stuff to decorate your homemade cupcakes with some style below.
How to Make Them
To make these cupcakes, add red food coloring to white frosting. You might be surprised how much red you really need and these probably could have looked redder but the color is suitable enough.
Frost the tops of the cupcakes and then use Wilton tip #2 which is a round tip. Make the polka dots on the cupcake (as many as desired) and then you can use the same tip to draw the head as well as the center line to represent the wings and body.
Note: To make the fancier cupcakes, (with the flowery shaped dots) use Wilton tip #224.
Ladybug Cupcake Supplies
Fondant Ladybug Cupcakes
To make these you need to roll red fondant into a small oval shape. Use a carving tool to draw a line down the center of the ladybug. Add the small black dots (these are fondant also). Place onto frosted cupcake.
These were made using the same red fondant that was rolled out. Take a round cookie cutter and cut out the shapes. Use one end of a small leaf shaped cookie cutter to then cut out the triangle looking shape from the red part of the ladybug to make them look like wings.
Then use a small cookie cutter from one of the frosting tips to cut out the dots on the back of the ladybug and add them onto your ladybug.
Take black fondant and then do the same to form the body and the head of the ladybug. You may need to cut them in parts to arrange them as desired.
Use a grass looking frosting tip to make the grass. This was was made with Wilton frosting tip #233.

More Ready-made Cupcake Toppers
Pink Ladybugs
To make the pink cupcakes you will add just a small amount of red food coloring to white frosting and stir thoroughly.
Frost the cupcake and then repeat the same process with the white frosting to make the polka dots and the head and body.
Now you have a red and pink ladybug treat!
How to Make a Ladybug Cupcake Decoration
You may notice that I also added some small ladybug cupcake decorations (photo on the right).
These were actually made out of felt, but it might be quicker to use colored paper.
It's just easier to work with and much easier to cut! I had a hard time cutting out the dots. As you can tell here, I also forgot the black line down the middle to make the wings of the bug, I'll make another set in the future.
Make Your Own Ladybug Cupcake Picks
You Will Need
Wooden picks (available at craft stores) or toothpicks
Black, red, white, pink paper or felt
Hot glue gun
Felt for antlers or pipe cleaner in black or white
To make one ladybug you will need to cut out 2 circles and then 3 smaller circles. Add a dab of glue to the middle of one circle.
Then place your wooden pick on it and add the other circle to the top and press down lightly to ensure that everything holds together.
Next, add your circles to the ladybug's back. Lastly, add your antlers by cutting a 1/4 inch of pipe cleaner (or as long as you prefer) and inserting it in the top part of the ladybug.
You can also look for clipart images online and simply print and then cut them out and glue them onto a tooth pick!
Ladybug Party Supplies and Ideas
Ladybug Cupcakes Made Out of Cookies
This one uses Oreo cookies to form the body of the ladybug. Take one Oreo and open it up, place one of the halves facing down onto frosted cupcake. Take another Oreo and then cut in half using a circular or leaf shaped cookie cutter to make them look like wings. Arrange each "wing" onto the cookie. Use red frosting to pipe on the red back of ladybug and then use black fondant cut out into small circles to make spots on the ladybug. The tentacles were made using black fondant but you can also use black licorice or tootsie rolls.
More Ladybug Party Gear
Decorations, Toppers and Wrappers
Even More Ladybug Gifts You Might Love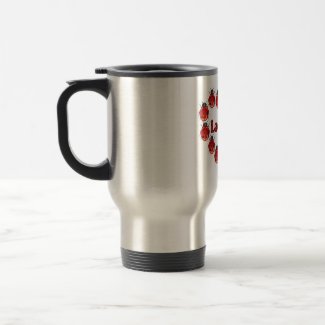 Ladybug Heart Travel Coffee Mug

Polka Dot Red Ladybug Thank You Note Cards

You Might Also Like: